[This article appeared in the March 24, 2022 edition of the Mendon-Honeoye Falls-Lima Sentinel on page 5.]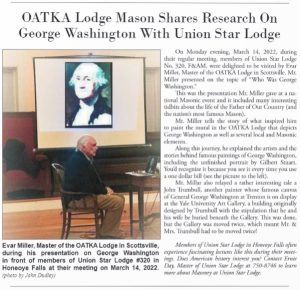 On Monday evening, March 14, 2022, during their regular meeting, members of Union Star Lodge No. 320, F&AM, were delighted to be visited by Evar Miller, Master of the OATKA Lodge in Scottsville. Mr. Miller presented on the topic of "Who Was George Washington."
This was the presentation Mr. Miller gave at a national Masonic event and it included many interesting tidbits about the life of the Father of Our Country (and the nation's most famous Mason).
Mr. Miller tells the story of what inspired him to paint the mural in the OATKA Lodge that depicts George Washington as well as several local and Masonic elements.
Along this journey, he explained the artists and the stories behind famous paintings of George Washington, including the unfinished portrait by Gilbert Stuart. You'd recognize it because you see it every time you use a one dollar bill (see the picture to the left).
Mr. Millar also relayed a rather interesting tale a John Trumbull, another painter whose famous canvas of General George Washington at Trenton is on display at the Yale University Art Gallery, a building originally designed by Trumbull with the stipulation that he and his wife be buried beneath the Gallery. This was done, but the Gallery was moved twice, which meant Mr. & Mrs. Trumbull had to be moved twice!
Members of Union Star Lodge in Honeoye Falls often experience fascinating lectures like this during their meetings. Does American history interest you? Contact Ernie Day, Master of Union Star Lodge at 750-8746 to learn more about Masonry at Union Star Lodge.