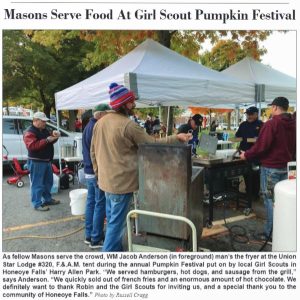 As reported in the Mendon-Honeoye Falls-Lima Sentinel October 20, 2022 issue, the Lodge continued its tradition of working with the Honeoye Falls Girl Scouts for their annual Pumpkin Festival. It was a great time had by all.
WM Jacob Anderson spoke to the local paper about the services that Union Star Lodge No. 320 provided to the many people who attended this event.
If you have any questions about the Lodge, please contact WM Jacob Anderson.
Picture caption reads:
As fellow Masons serve the crowd, WM Jacob Anderson (in foreground) man's the fryer at the Union Star Lodge #320, F.&.A.M. tent during the annual Pumpkin Festival put on by local Girl Scouts in Honeoye Falls' Harry Allen Park. "We served hamburgers, hot dogs, and sausage from the grill," says Anderson. "We quickly sold out of french fries and an enormous amount of hot chocolate. We definitely want to thank Robin and the Girl Scouts for inviting us, and a special thank you to the community of Honeoye Falls." Photo by Russell Cragg