[Updated November 27, 2021: The public portion of this Open House is cancelled due to Covid. The Lodge will still host the judges and family members during the Parade.]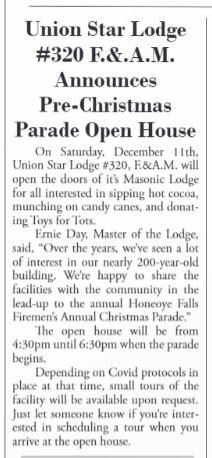 On Saturday, December 11th, Union Star Lodge #320, F.&A.M. will open the doors of it's Masonic Lodge for all interested in sipping hot cocoa, munching on candy canes, and donating Toys for Tots.
Ernie Day, Master of the Lodge, said, "Over the years, we've seen a lot of interest in our nearly 200-year-old building. We're happy to share the facilities with the community in the lead-up to the annual Honeoye Falls Firemen's Annual Christmas Parade."
The open house will be from 4:30pm until 6:30pm when the parade begins.
Depending on Covid protocols in place at that time, small tours of the facility will be available upon request. Just let someone know if you're interested in scheduling a tour when you arrive at the open house.